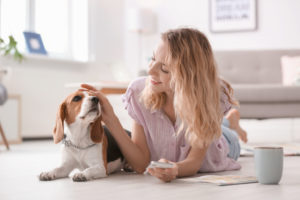 Heartworms. It's a word that strikes fear in almost all dog, cat, and ferret owners, and for a good reason. Not only will heartworms leave your dear pet sick, lethargic, and isolated if they are infected, it also requires extensive special accommodations for the infected pet and treatments can be costly.
Climate affects heartworm transmission by mosquitoes.
Florida pet owners need to be even more diligent than most about heartworm protection because of our hot, humid climate, which is perfect for mosquito breeding. Mosquitoes transmit heartworms from carrier animals like coyotes and foxes to your pet right in your own backyard. There have even been cases of human infection reported!
So all you need to do is stop all mosquitoes from entering your yard, right? Don't we all wish!! While it would be nice to just spray a pesticide and not worry about mosquitoes anymore, that isn't quite realistic. Even the best mosquito control methods aren't going to stop all mosquitoes from coming into your space, and just one mosquito is all it takes to infect your pet.
So what can I do to keep my pet safe?
Thank goodness there's a way to prevent heartworms in pets susceptible to infection – monthly preventative medication. Several brands of heartworm preventative are sold in the US and are widely available, but they all require a prescription from a licensed veterinarian. Some heartworm medications take on the extra job of fighting intestinal parasites or fleas too! Dogs, cats, and ferrets should be tested for heartworms before beginning a preventative and at least annually after that. It requires only a small amount of blood, and the test is usually done quite fast in a lab.
Even so, every year, pet owners try to skip a few of those heartworm pills because they just forget, they want to save some cash, or they're worried that the medication will have unwanted side effects. Big mistake! The American Heartworm Society says that missing just one dose or even giving it late can leave your pet unprotected.
That's taking a big risk.
Untreated heartworms can live inside your pet for a long time and wreak havoc on their heart, lungs, and blood vessels. Small pets such as small dogs, cats, and ferrets may not show any sign of infection until it is too late. That's why regular heartworm testing and a monthly preventative are so important.
So how often should I give my pet heartworm medication? The answer is every single month, on time, for optimal protection.
If you're still worried that you'll forget or fearful of side effects, so here are some tips to overcome the obstacles and fears of giving heartworm preventative monthly:
Set a monthly reminder in your phone's calendar app to give the medicine and a yearly reminder to get your pet tested.

Look for coupons or discounts to pet supply stores online, and through organizations, you may already be involved in like AAA, AARP, or even your workplace or school.

Look up the research and reviews on the type of heartworm medication prescribed for your pet…You'll find lots of info showing that it is very safe and side effects are minimal.

Make sure you're always purchasing your pet's medications through a reputable brick-and-mortar or online pet pharmacy. Affordable Pet Hospital has a physical location in Tampa and an online pet pharmacy at newtampapet.vetsfirstchoice.com for your convenience.
Giving your dog, cat, or ferret monthly heartworm preventative is a quick and easy way to keep them in the best possible health. Contact Affordable Pet Hospital's Tampa office at (813) 991-9898 or visit us online at newtampapet.com for information on heartworm preventatives we have available and to schedule an appointment for heartworm testing today!
https://newtampapet.com/wp-content/uploads/2020/06/logo5.png
0
0
affordablepet
https://newtampapet.com/wp-content/uploads/2020/06/logo5.png
affordablepet
2021-06-20 10:09:57
2021-06-30 12:20:50
How Often Should I Give My Pet Heartworm Medication?