Pet Ultrasound in Tampa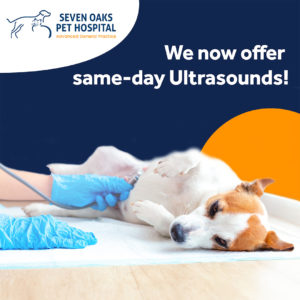 Whether it's a routine yearly exam, a chronic condition, or an emergency, you want to know that your pet is receiving the most comprehensive, up-to-date veterinary care possible. Here at Affordable Pet Hospital in Tampa, we know that fast and early identification makes a big difference in your pet's treatment options. This is why we use the latest diagnostic options available to the industry, including sonography, commonly referred to as ultrasound.
What is an Ultrasound?
Just like an ultrasound of a pregnant woman's womb to help monitor the health of her unborn baby, veterinarians use diagnostic ultrasound to help monitor the health of your pet. By passing high-frequency sound waves through your pet's body, an ultrasound painlessly creates a live image of the animal's internal organs. This allows the veterinarian and their team to detect structural damage, deformities, and issues with organ functioning.
Why Would My Pet Need an Ultrasound?
There are many reasons why your veterinarian might recommend a diagnostic ultrasound, including:
Physical trauma

Unexplained lumps or bumps

Abnormal blood or urine test results

Unexplained digestive symptoms or weight loss

Abdominal pain

Trouble urinating

Suspected internal fluid buildup

Biopsies

Pre-surgical workup

Pregnancy confirmation
Only your vet can determine if an ultrasound is needed to accurately diagnose or treat your pet.
Will My Pet Need Anesthesia During an Ultrasound?
It's hard to say if your dog or cat will need anesthesia or a sedative during an ultrasound because all animals are different. Calmer, more relaxed pets may do just fine without any medication, while more hyper pets will most likely need something to take the edge off. When medication is needed, we aim to only give pets just enough sedation for the procedure to minimize potential side effects.
For some ultrasound procedures, such as those done to guide biopsy collection, all pets will receive anesthesia for their safety and comfort.
Safe and Effective Pet Ultrasound Diagnostics in Tampa
No matter what your pet needs, Affordable Pet Hospital and its partners in Tampa Bay offer the services and procedures to keep your dog, cat, and certain exotics happy and healthy. Call us at (813) 991-9898 or request an appointment online to begin your pet's care today!