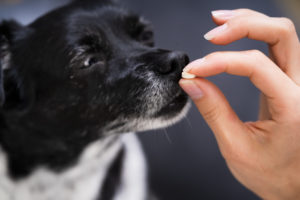 Dealing with a dog can be difficult for anyone, but raising a dog with a behavior problem is downright exhausting. Just like humans, dogs can have a variety of issues that cause inappropriate or undesired behaviors, such as fear, phobias, cognitive dysfunction, compulsive disorders, and frustration issues.
When people deal with issues like these, they typically defer to their family doctor for guidance and advice. Dogs should be treated the same way. Any of the issues listed above warrant a trip to the vet for some further investigation.
Most dogs are able to overcome behavior issues with competent training and never need to consider medications. However, for a small group of dogs, the intensity of symptoms is so high that their quality of life is sorely affected. For these animals, medication to ease the negative behaviors may be their only hope.
A vet may consider behavior modification medication for your dog if the problematic behaviors:
Adversely affect the dog's quality of life or functioning
If your dog becomes so fearful, aggressive, aroused, etc. that they actually harm themselves or others during the chaos, medication may be called for to bring the dog back down to a manageable level. Dogs that are unable to complete normal daily functions, such as toileting or eating, without extreme fear or anxiety are also prime candidates for behavior medication.
Prevent the dog from being able to learn
While hands-on training is the preferred method of correcting problem behaviors, you can't train a dog that won't calm down. Medications are sometimes used in the beginning of training plans for dogs that are extremely wound up. These medications are typically tapered off as the dog learns new control skills.
Do not match the intensity of the provoking trigger
If the trigger that is provoking the dog's bad behavior is mild, but the dog's reaction is intense, there is a disconnect between the two that needs to be resolved. For example, a dog that barks loudly and aggressively at the same person walking by their yard every day could be an unmatched response.
Continue on well after the trigger is removed
Even if a dog barks aggressively at the same person every day, they should calm down once that person is out of sight. If your dog continues the undesirable behaviors well after the trigger is gone, you might have a problem.
If your dog is experiencing behavior issues or any of the above apply, it's time to make an appointment with a vet. If you and your pooch live in Tampa Bay, the animal care experts at Affordable Pet Hospital would be happy to help you figure out how to help ease your dog's symptoms and eliminate inappropriate behaviors once and for all. Call us at (813) 991-9898 or contact us online to schedule an appointment today!
https://newtampapet.com/wp-content/uploads/2020/06/logo5.png
0
0
affordablepet
https://newtampapet.com/wp-content/uploads/2020/06/logo5.png
affordablepet
2021-11-15 07:16:10
2021-11-25 07:22:50
How to Tell if Your Dog Needs Behavior Medication