Affordable Pet Hospital Staff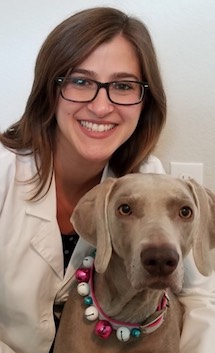 Dr. Diana Munoz joined the Affordable​ Pet Hospital family this summer of 2017. She was born and raised in Puerto Rico where she attended the University of Puerto Rico, Mayaguez. She received her doctorate in Veterinary Medicine from Tuskegee University in 2011. Dr Muñoz has a special interest in soft tissue surgery and internal medicine. She is fluent in English and Spanish. In her free time, Dr. Muñoz likes to spend time with friends, her husband and her furry baby, Maya. She also enjoys traveling, kayaking and obstacle course racing.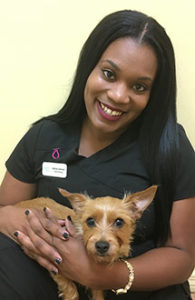 Practice Manager/Veterinary Technician
Zakiya is a busy mom with seven years of veterinary experience. Ever since she was 8 years old, bringing home stray animals, she knew this field would be a perfect fit. She graduated from a veterinary assisting program later becoming a trained veterinary technician. Many years later, her love to teach everyone with the hunger to learn, and the joy she gets from developing other technicians made way her new position in management. When she has free time, she enjoys jet skiing and spending precious moments with her little girl.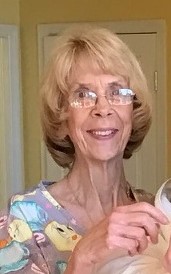 Receptionist
Phyllis has been working in Veterinary practices for 23 years before coming to Affordable Pet Hospital. When not working she enjoys taking care of her family which includes her husband, Carl, two mischievous cats, Trouble and Bugs, and two pampered horses. She also enjoys singing in an ensemble and choir at her Church to fill up the rest of her time.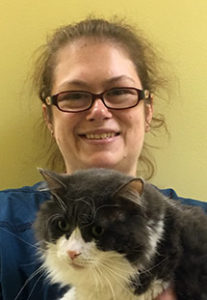 Receptionist/Assistant
Abigail (Abi) was born in Virginia Beach, VA and relocated to Tampa, FL in October of 2007. She relocated with her spouse for a change of scenery. Abi has worked at several different animal hospitals fulfilling many duties but enjoys the assistant position the best. She has worked in the industry for 14 years. Abi greets all clients with a warm voice and a welcoming smile. She enjoys helping all clients and patients and treats them in the way she'd hope to be treated. Currently, she is pursuing her degree at St. Petersburg College in Veterinary Technology Program. Abi hopes to one day own her own animal hospital with a focus on all things felines! She is the owner of two cats, Bubba and Miracle Lucille, and a pug named Missy. Her heart and passion are for the lost animals and the ones waiting to find their forever homes from animal rescue organizations and shelters. Abi says,"Save a life, adopt, don't shop!"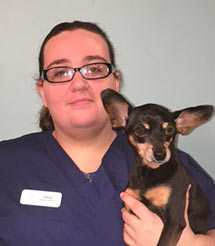 Veterinary Technician
Stacey is currently attending Hillsborough Community College in the Veterinary Technology Program. She plans to graduate in May 2017 and take her VTNE in June 2017 to become a Certified Veterinary Technician. In her free time she enjoys watching hockey (Go Bolts!) and spending time with her three dogs at home, Sophie, Ziggy, and Bosco.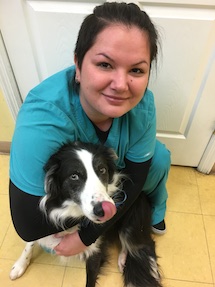 Veterinary Technician
Shonna has been practicing and working as a veterinary technician for three and a half years. She's originally from Lakeland, Florida and she recently moved to the Tampa Bay area. Her hobbies include painting and sketching, or a day at the park.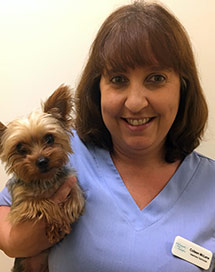 Veterinary Technician
Colleen is a mom who recently moved to Tampa and is a Graduate from Vet Tech Institute in Pittsburgh,Pennsylvania. She has plans to become a Certified Veterinary Technician in the fall of 2017. She has two furry babies names Boomerang and Gator. On her free time, she enjoys spending quality time with her family mainly at Disney World.